HAPPY THANKSGIVING!
The TAP League is off the week of November 24 to celebrate the Thanksgiving holiday.
Phoenix TAP is thankful for all the players who participate in the league!
Thank you & have a great day,
Peggy & Robert
---
TAP TEAMS WIN BIG AT DALLAS NATIONALS


Third Place winners on the Championship board of the TAP Nationals went to "Last Call" with Martin Colello as captain, Lance Hansen, Ron Lahey, Charlie Ward, Chad Wilder and Paul Javorski. Last Call received a check for $3000.


Third Place on the Second Chance board went to J.J. Johnson's team, "Main Event," with Robert Bugh, Reuben Farnsworth, Chris Hoel, Mike Lawrence, Todd Gunderson and David Holloway. Main Event walked away with a check for $1250.00!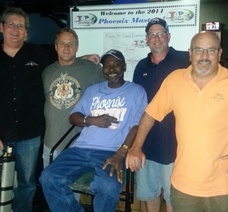 Congratulations to all of the Phoenix players who made it to the 2014 TAP Nationals in Dallas, TX. Next year we're all going to Nashville, TN!

---
SOUTHWEST CHALLENGE IN LAUGHLIN, NV
Dates: February 26 through March 1
All active TAP players in Arizona, California and Nevada are invited to the inaugural SouthWest Tournament in Laughlin, NV (must have 6 matches in between September 2014 and January 2015). Details of this tournament are being finalized and the dates are going to be February 26 through March 1. This is a 3-person team tourney with a handicap maximum of 16 plus a TAP-X tournament.

Experience TAP's electronic scoring "Runout Apps" - all scoring will be done on tablets!

Click on the links below to see the schedule, sign-up form and tournament rules!

Tournament Schedule
Tournament Sign-up Form
Tournament Rules

*******
*NEWS FLASH**
June 1, 2014: Phoenix TAP is now under the ownership of the original owners, Robert & Peggy Mallen.
The upcoming Fall session (September 2014 to February 2015) is the second session to qualify for the 2015 Nationals, which will be held in Nashville, TN. Now is the perfect time to get your team ready for some great competition on 9' tables!
---
| | |
| --- | --- |
| | |

TAP of Greater Phoenix, LLC