CONGRATULATIONS TO THE FALL 2014/15 SESSION TOP PERFORMERS
Listed below are the teams for each division who came in 1st, 2nd and 3rd. The Wild Card Team will be added after the draw on Saturday, January 24, at Noon at Skip & Jan's. These are the teams who will play in the playoffs and in Titleholder's. For any 3rd place ties, a tiebreaker will be done to determine which team plays in the playoffs; the other third place team is still eligible to play in Titleholder's scheduled for Saturday, January 24 at Skip & Jan's. Doors open @ 9 tourney starts @ 10 a.m.
Also listed in the line just below the teams are the MVP's for each bracket. MVP's receive a check for $40 and an MVP patch. If MVP's would rather have a trophy, arrangements can be made by calling Peggy at 602-268-6067.
ENTRIES WILL BE UPDATED AS WEEK 14'S SCORESHEETS HAVE BEEN ENTERED.
DIV.
1ST PLACE
2ND PLACE
3RD PLACE
WILD CARD
MVP
2/3 BRACKET
4/5 BRACKET
6/7 BRACKET

A

A1 Crazy Diamonds
Steve Kaiblinger (Cpt)
A6 Nice Leave
Pete Peters (Cpt)
A5 This Team Right Here
Brandon Hoffman (Cpt)
A2 Ferrule Cats
Peggy Mallen (Cpt)


MVP

Bill McAuliffe
Richard Taylor

J. P. Whitaker

B

B10 Go 8-Ball
Steve Kaiblinger (Cpt)
B7 Mushroom Tips
Marcos Romero (Cpt)
B5 Stroke This
Dan Allen (Cpt)
B1 Miscues
Aaron Morgan (Cpt)


MVP

Lance Hansen
Robert Temple
Greg Brown

C

C4 La Familia
Fred Amarillas (Cpt)
C3 Bootstrap Bill
Bill Snavely (Cpt)
C2 Mere Mortals
Peggy Mallen (Cpt)
C1 Full House
Barbara Sutman (Cpt)

MVP

Brad Laderoute
Tye West
N/A

P

P2 Ballizsticks
Steve Johnson (Cpt)
P3 Rack N Ruin
Jim Gahan (Cpt)
P9 RAKINHAYDERZ
Bryan Stern (Cpt)
P8 Dees
Dee Stokka (Cpt)


MVP

Paul Smith
Chan Phan
Brian Desantis
---
TAP TEAMS WIN BIG AT DALLAS NATIONALS


Third Place winners on the Championship board of the TAP Nationals went to "Last Call" with Martin Colello as captain, Lance Hansen, Ron Lahey, Charlie Ward, Chad Wilder and Paul Javorski. Last Call received a check for $3000.


Third Place on the Second Chance board went to J.J. Johnson's team, "Main Event," with Robert Bugh, Reuben Farnsworth, Chris Hoel, Mike Lawrence, Todd Gunderson and David Holloway. Main Event walked away with a check for $1250.00!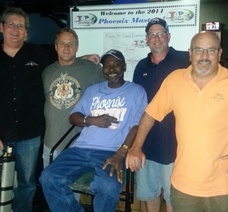 Congratulations to all of the Phoenix players who made it to the 2014 TAP Nationals in Dallas, TX. Next year we're all going to Nashville, TN!

---
SOUTHWEST CHALLENGE IN LAUGHLIN, NV
Dates: February 26 through March 1
All active TAP players in Arizona, California and Nevada are invited to the inaugural SouthWest Tournament in Laughlin, NV (must have 6 matches in between September 2014 and January 2015). Details of this tournament are being finalized and the dates are going to be February 26 through March 1. This is a 3-person team tourney with a handicap maximum of 16 plus a TAP-X tournament.

Experience TAP's electronic scoring "Runout Apps" - all scoring will be done on tablets!

Click on the links below to see the schedule, sign-up form and tournament rules!

Tournament Schedule
Tournament Sign-up Form
Tournament Rules

*******
*NEWS FLASH**
June 1, 2014: Phoenix TAP is now under the ownership of the original owners, Robert & Peggy Mallen.
The upcoming Fall session (September 2014 to February 2015) is the second session to qualify for the 2015 Nationals, which will be held in Nashville, TN. Now is the perfect time to get your team ready for some great competition on 9' tables!
---
| | |
| --- | --- |
| | |

TAP of Greater Phoenix, LLC