FALL 2014/15 Leagues Start September 30, October 1 and 2
SUMMER 2014 TOP PERFORMERS
The teams indicated here are participating in the playoffs in week #15 and all are eligible for the Titleholder's tournament scheduled for Saturday, October 11 at Skip & Jan's (doors open @ 9 tourney starts @ 10 a.m.
Also, the drawing for the $1399 Balabushka SLE (Special Limited Edition) cue will take place after the Wild Card Draw on Saturday (no need to be present to win).
AND THE WINNER OF THE BALABUSHKA CUE IS...RON LAHEY -
Division P - Team "Last Call"
DIV
1ST PLACE TEAMS


PLAYER MVP H/C 6-7

2ND PLACE TEAMS


PLAYER MVP H/C 4/5

3RD PLACETEAMS


PLAYER MVP H/C 2/3

WILD CARD
A
A1 Crazy Diamonds
S. Kaiblinger (Cpt)
A7 Shoot Em Up
Steve Starks (Cpt)
A3 Rack Em Up
Bob Pyron (Cpt)

A4 Spot the Ball
Tim Sweeney (Cpt)

A - MVP

Eric Lervold

Dan Fisk

Ray Stacey

B
B5 Stroke This
Dan Allen (Cpt)

B10 Go 8-Ball
Steve Kaiblinger (Cpt)

B7 Mushroom Tips
Travis Choate (Cpt)
B9 Pati's Wagon
Pati Martinez (Cpt)
B - MVP
Martin Colello
Travis Choate
Rick Kukla
C
C4 Wholly Rollers
Peggy Mallen (Cpt)
C3 Willing Peters
Bill Snavely (Cpt)
C5 La Familia
Fred Amarillas (Cpt)
C2 Full House
Barbara Sutman (Cpt)
C - MVP
Sam West
Kevin Thomas
Bryan Stern
P
P8 Ballizsticks
Steve Johnson (Cpt)
P6 Last Call
Martin Colello (Cpt)
P2 Nice Rack
Tim Perry (Cpt)
P5 Main Event
J.J. Johnson (Cpt)
P - MVP

Martin Colello

Tim Perry

Norm Grossberg
SOUTHWEST CHALLENGE IN LAUGHLIN, NV
Dates: February 26 through March 1
All active TAP players in Arizona, California and Nevada are invited to the inaugural SouthWest Tournament in Laughlin, NV (must have 6 matches in between September 2014 and January 2015). Details of this tournament are being finalized and the dates are going to be February 26 through March 1. This is a 3-person team tourney with a handicap maximum of 16 plus a TAP-X tournament.

Experience TAP's electronic scoring "Runout Apps" - all scoring will be done on tablets!

Click on the links below to see the schedule, sign-up form and tournament rules!

Tournament Schedule
Tournament Sign-up Form
Tournament Rules

*******
*NEWS FLASH**
June 1, 2014: Phoenix TAP is now under the ownership of the original owners, Robert & Peggy Mallen.
The upcoming Fall session (September 2014 to February 2015) is the second session to qualify for the 2015 Nationals, which will be held in Nashville, TN. Now is the perfect time to get your team ready for some great competition on 9' tables!
---
---
Winners of the TAP Master's Tournament - On Their Way To Nationals!


First place winners of the TAP Masters went to "Last Call" with Martin Colello as captain, Lance Hansen, Ron Lahey, Charlie Ward, Chad Wilder and Paul Javorski.

The TAP Master's tournament consists of the best-of-the-best teams who have won their division, won the Titleholder's tournament for their session and gained eligibility for the Master's.

Second Place went to J.J. Johnson's team, "Main Event," with Robert Bugh, Reuben Farnsworth, Chris Hoel, Mike Lawrence, Vince Glisson, Todd Gunderson and David Holloway.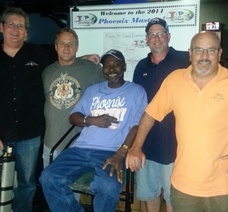 Third Place winners are "8-Ball N" - Jason Doyle as captain along with Jason Barkac, Quillan Smith, Dan Smith, Bill McAuliffe, Bronco Manzanares and Tom Smith.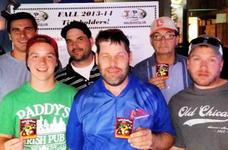 Congratulations to the talented TAP players who played stellar pool and won their way to the TAP Nationals in Dallas on November 12-16, 2014!

---
Phoenix TAP is giving away a Balabushka Special Limited Edition (SLE) pool cue – $1399.00 retail value as a gesture of appreciation to Phoenix TAP players, new or existing, who signs up to play in the Summer 2014 TAP session. (see details below)
On another note Southwest TAP States which include Arizona, Nevada and California are in the planning stages of "Run Out at the River" - a tournament in Laughlin, NV just for us! The plans include a 32 team board with 3-person teams. Build any team you'd like - just as long as the players are active members of TAP (Handicap limit TBD). Dates will be posted as soon as all of the contracts have been signed. It will be in January or February 2015! A great time for a road trip!
Oh...and one more thing...all teams will be loaned a tablet to use during their match to keep score electronically - an introduction to the new electronic score keeping program. BTW you can check it out right now at http://runoutapps.com/.
APPRECIATION PROMOTION DETAILS:
1) All TAP Players who sign up during the first nine weeks of the session are eligible. This promotion runs from week one of the summer session (June 9, 2014) up to and including week 14 (does not include playoff week).
2) Names will be randomly drawn weekly for 14 weeks for the final draw. The final draw for the recipient of the cue will take place at the Wild Card Draw on Saturday, September 13 at Skip & Jan's at Noon.
3) All names drawn on a weekly basis will be posted on www.phoenixtap.com each week.
4) The number of teams in each division determines how many names will be drawn each week.
5) Each week names will be drawn from the list of the players on their division roster only. Once drawn, their name will go BACK into the mix and may get drawn again in a future week. A players name has the potential of being drawn 14 times.
6) At the end of 14 weeks, all player names that were drawn during each week of the session will be combined and the final winner will be drawn from those names.
7) The player drawn for the cue must have at least 6 matches completed during the 14 week session.
8) If an entire team drops out at any time during the session all team members will be ineligible.
9) If a player signs up at any time from week one through nine, they will be included in the drawing starting the first week they play.
| | |
| --- | --- |
| | |


TAP of Greater Phoenix, LLC